A Learning Bridge for Our Participants
CIEE Program Leaders play a critical role in our Global Navigator high school summer abroad programs. Highly energetic and passionate about the language or topic of their program, they are more than just chaperones. They are educators who connect classroom learning to the real world, ensuring summer abroad becomes an unforgettable learning adventure.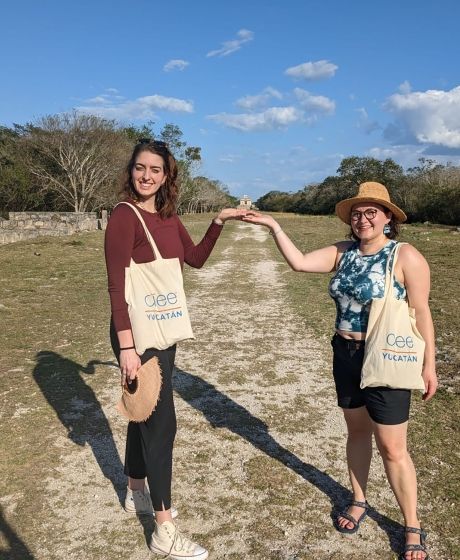 U.S. High School Educators
Program Leaders understand our participants' needs and are experts at resolving conflicts, trained in first aid and emergency response measures, and passionate about travel.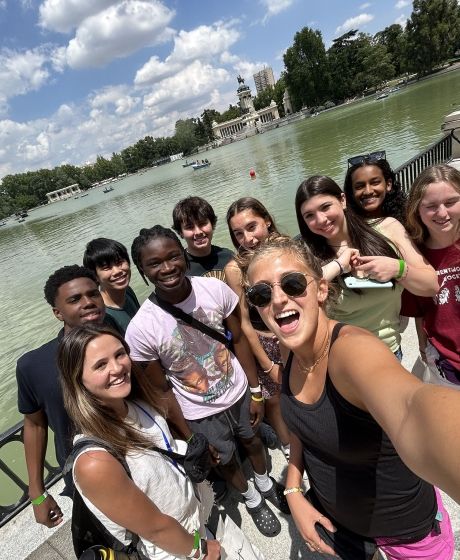 Language or Topic Area Experts
Program Leaders are fully trained on our program curriculum to accompany participants in their learning and receive additional training in experiential learning, group management, and more.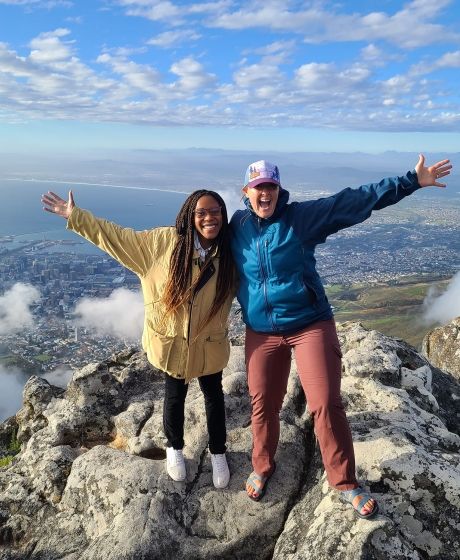 Global Education Advocates
Program Leaders promote global education and study abroad opportunities for high school students, working closely with CIEE and often leading programs for multiple summers. 
Apply to Be a Program Leader
Interested in shaping the global leaders of tomorrow? Next summer, experience the job of a lifetime!
We're looking for experienced and enthusiastic U.S. high school teachers, counselors, coaches, and global travel enthusiasts to lead our high school participants through their summer abroad experiences in 35+ global locations.  
This fun, summer job for teachers and other professionals happens between June and July and can last 3, 4, or even 8 weeks. If you believe that studying abroad brings people closer together and want to help high school students safely experience the world as their mentor and leader, apply now!
What Is High School Summer Abroad?
CIEE high school summer abroad programs give curious, motivated teens the opportunity to immerse themselves in another culture, learn and practice a world language or conduct field research in a topic of interest, and develop self-awareness and leadership skills.  
We proudly offer high school study abroad scholarships to 75% of our participants, not only to expand access to study abroad but also to diversify and enrich our participant cohorts. Many of our participants are the first of their family or peers to study abroad and bring international travel back to their community!
Why Be a Program Leader?
Our Program Leaders believe in our mission of making study abroad an integral part of the U.S. high school experience. Along the way, Program Leaders get to travel and make extra income in the summer while connecting with a large network of like-minded peers and global education advocates!
Weekly pay scale, adjusted for seniority: 1st year: $400/week. 2nd year: $450/week. 3rd year and beyond: $500/week.  
Training and teacher professional development opportunities: Get training on group management, intercultural learning, and experiential learning.
Referral bonuses: Receive a referral bonus for every new Program Leader that you refer and who travels on a CIEE Global Navigator program.  
Discounts for all your students, friends, and family: Share a discount with anyone in your community, valid on any CIEE Global Navigator program.  
New rewards incentives: Earn additional travel rewards for spreading the word about CIEE Global Navigator Programs.
Read more about our Program Leader incentives. Check your MyCIEE account for referral codes and discount details.
General Responsibilities
Support participants 24/7 for the duration of the program. Counsel them on homesickness and culture shock, facilitate thoughtful discussion and reflection, and share your enthusiasm for the local language/culture/program topic.
Cultivate a positive group dynamic and help participants connect with peers from diverse backgrounds. Support interpersonal development.
Manage participants' behavioral and academic issues. Report all medical or behavioral incidents to local CIEE center staff with detailed documentation within 24 hours. Report any serious concerns immediately.
Assist local CIEE center staff with program logistics, group management and other duties as assigned by the Program Coordinator.
Collaborate with co-leaders to publish weekly blog posts for the high school summer abroad blog for the duration of the program.
Complete an online training course (5-6 hours estimated to complete) and attend 4-5 virtual training sessions held in late April or early May. (Dates TBD)
Chaperone the group flights for U.S.-based participants traveling to and from program.
Program-Specific Responsibilities
Speak in the target language at all times, unless there is a health or safety risk, and use only the target language when talking with participants as well as other Program Leaders and local CIEE center staff.
Encourage and engage participants to stay in the target language outside of class and provide feedback, when appropriate, on their language use.
Be a learning bridge by helping participants apply what they learn in class in the community. Facilitate experiential learning outside of the classroom by asking open-ended questions and engaging participants to reflect on their experiences and observations and making connections.
Attend the last 30 minutes of class to co-facilitate the lesson Wrap-Up with your assigned language instructor. Observe and take notes on participants' language needs and prepare participants for their daily Community Conversation through use of different instructional strategies (e.g., modeling language, role-playing, strategically pairing participants, etc.).
Monitor participants' personal and intercultural growth through regular review of their reflection journals; facilitate structured debriefs on participants' reflection journals once per week.
Assist participants as they complete an online post-program assessment to measure growth.
Submit grades and evaluate assignments in an online learning platform (Canvas) on a weekly basis. 
Help participants make connections between lectures, field research, activities, and excursions through reflection and discussions.
Live in participant housing (if participants are not in homestays) and be ready to assist at all hours.
Support classroom instructors as needed by, for example, facilitating project work time, leading small groups, or reviewing participant work and assessments. (Duties vary by location)
Assist participants as they complete online pre- and post- program assessments to measure growth.
Support participants with the planning and delivery of their final projects and share content of final presentations with CIEE U.S. central team.
Help participants develop a plan for sharing their final project with their home community. 
General Requirements
24/7 availability to assist with duties or emergencies that may arise. Visitors or guests are NOT allowed to accompany you while program is in session. Your priority is to be available to the participants and the program.
Experience working with high school students in a leadership position.
Experience creating positive and inclusive group dynamics amongst participants from diverse backgrounds.
Excellent interpersonal and intercultural communication skills. A strong ability to work across cultures and in a diverse leadership team.
It is strongly recommended that Program Leaders for Language & Culture programs have experience working as full-time high school world language teachers.
Ability to remain professional while handling challenging student behaviors.
A positive attitude, flexibility and adaptability during unanticipated changes and challenges in your specific responsibilities, program components, and participant support needs.
Ability to embody CIEE's mission, culture, and values.
Computer literacy and experience working with online learning and/or blogging platforms such as Microsoft Teams, Outlook, Excel and Canvas.
Passport valid through February 2025. CIEE will cover the cost of visas where necessary but cannot reimburse passport fees.
Authorization to work lawfully in the United States.
Due to Federal Regulations, a background check will be conducted as a condition of employment.
Bachelor's degree preferred.
Physical Demands
Walking a minimum of 6-8 miles a day, often outdoors in the sun and heat on uneven surfaces and/or in inclement weather.
Riding a bicycle, swimming, and hiking.
Leading participants while maintaining a positive mental state in a physically challenging environment.
What Program Leaders Are Saying
"I love working with CIEE as a Program Leader. It gives me, as well as the students, an opportunity for us to practice our language skills in the real world. Every day on program is rife with inspiration for classroom lessons." 

Caroline H., CIEE Global Navigator Program Leader

 "I went abroad with CIEE when I was 17, so CIEE has always been on my mind as an awesome organization. Now as a Program Leader, I get to bring students abroad to a city I know and share the knowledge I had as an international exchange student. It's an amazing role! 

Julianne O., CIEE Global Navigator Program Leader

"As a Program Leader, you are as crucial as anything else on program! It's an amazing opportunity to work with an organization like CIEE, who makes study abroad accessible to students in a way you can't find anywhere else." 

Matt B., CIEE Global Navigator Program Leader
We hire several hundred Program Leaders across all of our programs each year to maintain a 12:1 participant to Program Leader ratio. 
If your application and experience looks like a good fit for one of our programs, we will send your information to one of our program locations. You can expect to have at least one virtual interview with the center staff to discuss your experience and to go through the program expectations. If you are accepted, we will send you an offer letter and continue your onboarding throughout the spring through online and virtual trainings preparing you for departure.
No, visitors are not allowed to stay in CIEE housing. These programs are very busy and your top priority is to be available to the participants.  
Yes, we do require all Program Leaders have a current certification in CPR. If you need to take a class to obtain this, CIEE will allow you to include this cost in your end-of-program expense report.
While we do ask for your preferences for programs during the application process, we take many factors into consideration when deciding the locations for which you will interview. We always do our best to ensure that we are sending our Program Leaders to the best location where they can have the greatest impact or where we have the greatest need. 
Yes, we often have Program Leaders stay in the same location for a total of 6 to 8 weeks, and they sometimes do two different programs.  
We start hiring for locations as early as October but often continue looking for candidates into the late spring if we have a late surge in participant enrollment. We are not able to respond to every application we receive as we often have over 1000 applicants. 
Yes, CIEE covers your round-trip flights, transportation to and from your home airport, and travel expenses during the travel days.
We will book your flights for you through our travel partner Flightfox. For all U.S.-based Program Leaders, we will book you on round-trip flights to accompany the participants to and from the program destination.
On-Program Experience FAQs
Yes, CIEE will provide housing in a homestay, dorms, hostels, hotels, or apartment, all of which will provide you with a single room.   
Meals will be provided either through your homestay or via a meal stipend.
All U.S.-based Program Leaders are required to chaperone the group flights for both the outbound and return flights. However, we do offer the following incentive as part of the Program Leader referral program: When you refer 6 to 11 students to travel on one of our programs, you are exempt from chaperoning your flight back and can extend your trip! 
We encourage our Program Leaders to refer their students, friends, and family on CIEE programs! To refer, simply log into your my.ciee.org account and check out your referral dashboard. While you are not eligible for a cash reward for referring, you qualify for great perks. For more info, check out the Program Leader incentives.
2024 Program Dates
| Session | Program | Length | Dates |
| --- | --- | --- | --- |
| Summer Session I | French Language & Culture in Paris | 4 weeks | Jun 2 - Jun 29 |
| Summer Session I | Language & Culture | 4 weeks | Jun 9 - Jul 6 |
| Summer Session I | Fashion Design & French Culture in Paris | 3 weeks | Jun 9 - Jun 29 |
| Summer Session I | Arts, Business, Social Change, and STEM | 3 weeks | Jun 16 - Jul 6 |
| Summer Session II | French Language & Culture in Paris | 4 weeks | Jun 30 - Jul 27 |
| Summer Session II | Language & Culture | 4 weeks | Jul 7 - Aug 3 |
| Summer Session II | Fashion Design & French Culture in Paris | 3 weeks | Jun 30 - Jul 20 |
| Summer Session II | Arts, Business, Social Change, and STEM | 3 weeks | Jul 7 - Jul 27 |
We'll be running programs in 35+ exciting global destinations in summer 2024!
CIEE provides equal employment opportunities (EEO) to all employees and applicants for employment without regard to race, color, religion, sex, national origin, age, disability or genetics. In addition to federal law requirements, CIEE complies with applicable state and local laws governing nondiscrimination in employment in every location in which the company has facilities. This policy applies to all terms and conditions of employment, including recruiting, hiring, placement, promotion, termination, layoff, recall, transfer, leaves of absence, compensation, and training.
CIEE expressly prohibits any form of workplace harassment based on race, color, religion, gender, sexual orientation, gender identity or expression, national origin, age, genetic information, disability, or veteran status. Improper interference with the ability of CIEE's employees to perform their job duties may result in discipline up to and including discharge.
If you apply and later would like your personal information deleted, please contact CIEE and we will remove it from our system.