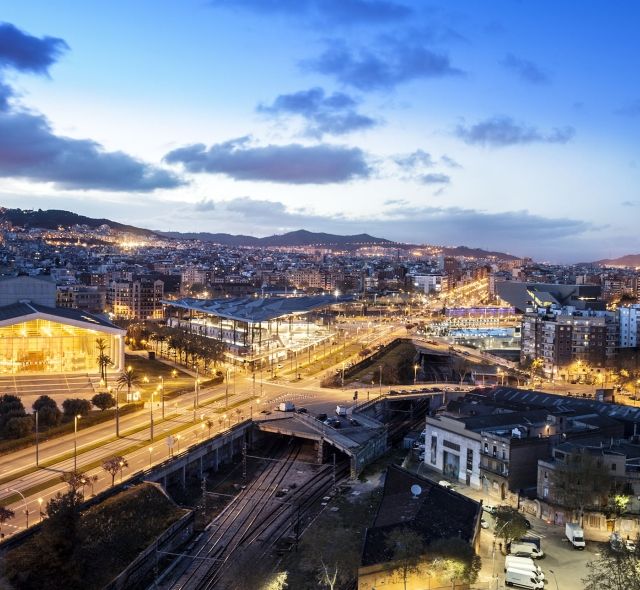 Summer Global Internship Language Immersion
Study Program
Part-Time Internship
Credit
6 semester hours
9 quarter hours
Eligibility
Overview
INTERN
with a startup, local business, international organization, or NGO.
LIVE WITH A SPANISH FAMILY
and immerse yourself in local culture.
HEAR FROM A VARIETY OF GUEST SPEAKERS
with different areas of expertise.
Experience
Your Destination
Barcelona's location in the Mediterranean, its transport infrastructures, as well as its trading, entrepreneurial, and open economy, have made the city an unbeatable meeting point for international businesses. Add in Barcelona's culture —rich in the arts, architecture, and history— and you have a compelling backdrop for a challenging internship experience.
CIEE Barcelona is conveniently located in a historical pedestrian passageway in the heart of the city. In it, students will find staff offices, classrooms, and open-air terraces. It is close to the host universities and to the city's main attractions. 
Learn more about Barcelona and see past internship examples »

CIEE wants all our students to feel welcomed, supported, and empowered to succeed while studying abroad. Local CIEE staff have provided details about conditions and cultural attitudes that students with specific identities might encounter in Barcelona.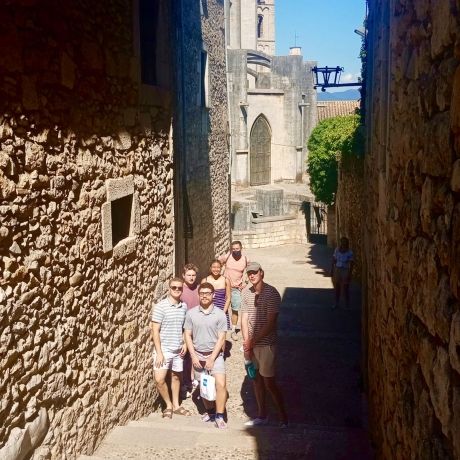 EXCURSIONS & ACTIVITIES
One of our popular day trips takes you to Montserrat, a Benedictine monastery retreat high atop one of the most spectacular mountain ranges in Catalunya. Not only is its history of significant religious importance but the surrounding natural beauty is nothing short of breathtaking. There you can visit the monastery to see La Moreneta (the black Madonna), listen to the world-renowned Boys' Choir (whose history dates back to the 14th century), and trek any of the numerous mountain trails where you'll take in incredible countryside views and see the most unusual rock formations in all of Catalonia. Are you ready? Let's go! 
Discover the Gràcia neighborhood, famous for its bohemian and artistic style and streets filled with color and culture. 
Visit the oldest preserved garden, reflecting both Neoclassical and Romantic styles – and try your luck in the park's labyrinth maze! 
Eat like a local and try popular traditional dishes like churros, patatas bravas, tortilla de patata, tapas, and pinchos. 
See a flamenco show! 
Hike the Carretera de les Aigües for amazing views over the city.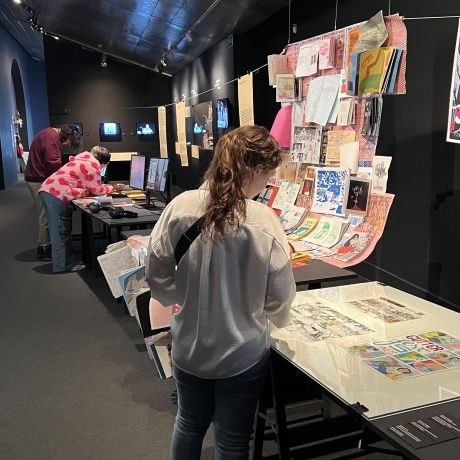 PROJECTS
Internship. A for-credit internship is at the core of this program. Based on your experience, interests, and current studies, you'll be placed with a startup, local business, international organization, or NGO, where you'll spend 100-120 hours interning, gaining hands-on professional experience and practicing your Spanish language skills.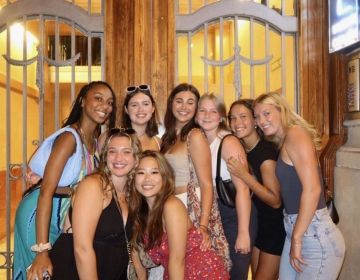 By: Alexis Lane Today marks the first week back to America after studying abroad for a month in Barcelona . When I first arrived home, I thought to myself "Now... keep reading
By: Alexa Levy As a junior in college studying abroad with CIEE Barcelona , I've had the incredible opportunity to explore an exceptionally energetic city and its stunning surrounding areas... keep reading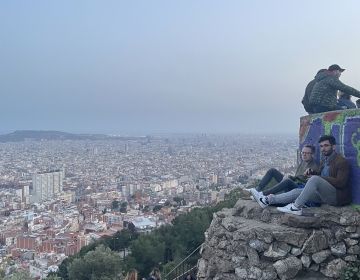 Break out of your comfort zone Try things you wouldn't normally or hadn't tried at all before going abroad! Whether it's food, opportunities to be independent, to travel, meet new... keep reading
Housing
All housing is within a 30-minute commute to CIEE Barcelona. As long as the local health and safety regulations permit, students could stay in: 

Homestays. Live with a Spanish-speaking family - with or without another CIEE student - and immerse yourself in the city's language and culture. Each student has an individual room and weekly laundry service. 

Residence Halls. Students live with other Spanish and international students. Students share kitchens and common areas. 

Apartments. Students can live in apartments shared with other CIEE students. 

Housing is tight in Barcelona. If we can't accommodate your first housing choice, we'll let you know before you arrive.
Homestay students have breakfast and dinner with their host families, and they are responsible for lunch. 
 
Meals are not included at residence halls or apartments.
Academics
This program is designed to help students expand their Spanish vocabulary, immerse themselves linguistically and professionally in a new culture, and gain practical, on-the-job experience. Students take an intensive advanced Spanish course during the first four weeks of the program and intern part-time. During the last four weeks of the program, students focus solely on the internship and complete 100-120 hours of on-site work in total.
While the internship is considered part-time by academic standards, students will feel like a full-time intern during the second half of the program. The internship is complemented by academic work and weekly seminars on topics such as public speaking and leadership. 
Students intern in a local company. Projects have included: helping to improve logistics and customer relations; building finance reports in Excel; analyzing competitors; developing marketing plans; auditing local companies; and more.
The internship selection process accounts for each student's language ability, job skills, background, and professional attitude. Students' internship placements will be confirmed in advance of traveling. Because local firms make final selections, internships in a particular company are not guaranteed.
Students complete their internship seminar and placement in Spanish. Students agree to speak only Spanish to encourage language and cultural acquisition.
Courses
Internship includes a weekly seminar in Spanish
Advanced Spanish language class will take place during the first four weeks of the program
Note: This course listing is for informational purposes only and does not constitute a contract between CIEE and any applicant, student, institution, or other party. The courses, as described, may be subject to change as a result of ongoing curricular revisions, assignment of lecturers and teaching staff, and program development. Courses may be canceled due to insufficient enrollment.
"(GI)" denotes courses that originated at CIEE's Global Institutes and that are offered at multiple CIEE sites.
Scholarships
Scholarships & Grants
CIEE offers scholarships and grants annually to help students like you make your study abroad dream a reality.
Students who apply to this program are eligible for the following scholarships and grants:
Ping Scholarships for Academic Excellence
Global Access Initiative (GAIN) Grants
CIEE Gilman Go Global Grant
MSI Grant
CIEE Stem Scholarship
To be considered, submit the CIEE Scholarships & Grants application within your CIEE program application.
Dates & Fees
You get more for every dollar when you study abroad with CIEE, because our high-quality programs include everything from excursions to insurance. There are no hidden charges, and no disappointing surprises when you arrive.
Program

Application Due

Start Date

End Date

Fees & Housing

Program

Summer 2024

8 weeks
Start Date

End Date

Fees & Housing $7,450
To help you budget, keep in mind that students are responsible for the cost of international airfare, local transportation, books and supplies, visas, and personal expenses. In addition, your college or university may charge additional fees for study abroad, or may require you to receive a transcript via CIEE's School of Record, which carries an additional fee of $500.
Program Fees
CIEE offers the most student support of any provider in its program fee, including an airport greeting, full-time leadership and support, orientation, cultural activities, local excursions, pre-departure advising, and CIEE iNext travel protection with benefits.
Participation Confirmation = $300*
Educational Costs = $4,453**
Housing = $2,500
Insurance = $197
Total Fees = $7,450
Estimated Costs
Students are responsible and manage costs related to travel, meals, books, and personal expenses. Below are estimates for consideration.
Meals not included in program fee = $560†
International Airfare = $1,250††
Local Transportation = $43†††
Books & Supplies = $50
Personal expenses = $180††††
Total Costs = $2,083
Financial Aid
CIEE offers the most grants and scholarships of any study abroad organization, including $8 million/year in travel grants, merit-based scholarships, institutional and MSI grants, and Gilman Go Global Grants.
*non-refundable
**direct cost of education charged uniformly to all students
†For students in homestays, families provide 2 meals (breakfast and dinner). For students in apartments, you should budget approx. $260 per month for groceries if you plan on making your own meals, and more if you plan on eating out regularly.
††Round-trip based on U.S. East Coast departure
†††Local transportation: t-jove (3 months) = 40€ ($43) / Local transportation: 2 t-usual (1 month) = 40€ ($43)
††††Personal expenses: $100 emergency fund and cell phone expense + estimated cost of toiletries
Pre-departure Advising
Advising before you depart to set goals and answer questions
Optional on-site airport meet-and-greet
Orientation
Introduction to your program plus practical information about living in your host city
On-site Staff
Full-time program leadership and support in your city
Cultural and/or Co-curricular Activities
Travel Protection
CIEE iNext travel protection
24/7 emergency on-site support
Staff
Andrés Tabárez is Center Director at CIEE Barcelona. Andrés holds a Ph.D. in Classical Studies from the University of Barcelona (UB).
José Luis holds a Ph.D. in Modern Languages and Gender Studies from the University of Salamanca (USAL).
Nando holds a Master's Degree in Humanities from Universitat Pompeu Fabra (Barcelona) and is certified as a Spanish as a Second Language instructor (International House/ Universitat de Barcelona).
Get Started Steps
Get Started
Here's what you need to do to take the next steps:
START AN APPLICATION
You're one step closer to an amazing study abroad experience!
CONNECT WITH YOUR CAMPUS STUDY ABROAD OFFICE 
Share your plans and confirm you're on track to meet all required steps to go abroad.
CONTACT
Send us an email if you still have questions or need information about applying to this program.